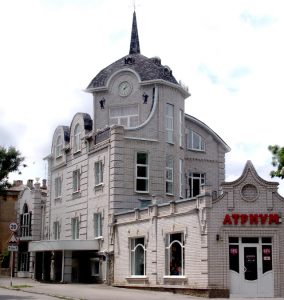 Plotnikov's Guest House is a beautiful mansion located in the center of Taganrog. The house was built in 2008 in the architectural style of the beginning of XX century and fits harmonically into the architectural ensemble of the old city. Our House has five levels and a tower in which the clock is installed. Every hour is accompanied by the ringing of five small bells and by the peal of a big hour-bell.
We have all conditions both for relaxation and for an active work. Every room has an individual design and is equipped with the shower cabin and bathroom. All rooms have an air-conditioner, refrigerator, phone and TV. The Internet in the House is accessed through a wireless Wi-Fi technology. The conference hall has all the necessary for carrying out the meetings, workshops and trainings. The location of the Guest House will allow you to combine your work and the beach relaxation at the Azov Sea as well as to walk through the old city and its historical places without additional transfer. Business Offices, municipal and governmental organizations are located at a walking distance of the House.
In our "CAFE OLD CITY " you can appreciate the culinary abilities of the cooking masters and enjoy the life music in the evenings. Weddings, corporate parties and other festivities regularly take place in the banquet hall of the Café.
The interior and the design of the Plotnikov's Guest House, the art painting of the walls will let you imagine yourself in the old provincial Taganrog as Anton Pavlovich Chekhov saw it.
There are of course some other hotels and guesthouses in Taganrog. The comments of our guests will help you to decide where to stay in Taganrog.
Ladies and Gentlemen!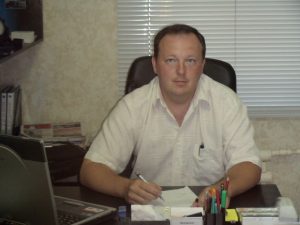 We can offer you a long-term partnership regarding the accommodation in our Guesthouse and well as the carrying out different events in the banquet hall of the House, which has 40 seats. We will organize conferences and lectures, workshops and trainings, stand-up meals and musical evenings, weddings and jubilees with regard to your wishes and our possibilities.
Special offers:
For the just married and their guests, we offer discount prices for the accommodation. At the wish of the just married, we can decorate the room with flowers and balloons and serve the breakfast in the morning.
If you came to us on a business trip or mapped your transit route through Taganrog we will be pleased to arrange excursions for you through local places of interests.
The prices for our services can be reduced in case of long-term contracts. You can send your proposals for co-operation as well as for the improvement of our work to e-mail: plotnikov-dom@mail.ru.
Best regards, V.V. Plotnikov.